Senior Team
Our senior team is made up of athletes that have been there, done that and got the t-shirt, for a variety of triathlon related goals from beginner to world championship medal winners. Each member of our senior team provides a unique purpose on the team and are focused on helping our athletes improve and fulfill their goals.
Tom is a highly qualified sports professional, his wealth of experience extends from Personal Training to British Triathlon Coaching; he is passionate about welbeing and is a Spin, Swim Fit and GP Referral Exercise coach. Tom's love of triathlon has seen him compete within his age group for Team GB at the Worlds and European races. He has traveled the globe for this sport and is excited to share his experiences and expertise with Beacon Tri, to give young, talented Norfolk and Suffolk Triathletes the best possible opportunities.
Jill has been the logistics support for her husband throughout his triathlete career and has a wealth of information about bike transportation, hotel deals and the PR involved inobtaining trade sponsorship and support. Jill competes in super sprint triathlons for charity and is a strong believer in developing triathlon for all at grass roots level.
Iain Dawson - Senior Athlete
Iain is 3 X European champion and 4 X World Champion across various multi-sport disciplines (Triathlon, Duathlon and Aquathlon). As a visually impaired athlete with 5% of normal vision, Iain competes with a Guide. In triathlon Iain and his Guide use a tether for the swim, a tandem for the bike section and run side-by-side for the final leg. Iain is also a former Paralympian having competed at the Sydney 2000 games in cycling and was lucky enough to be selected as a torch-bearer for the 2012 Paralympics in London. He is a qualified cycling coach and works full-time as Specialist Learning Disabilities Physiotherapist
Matt Ellis -
Senior Athlete
As an ex-National League Basketball player Matt took up triathlon as a development from cross training. He won his first Sprint distance race and placed second in his first Olympic distance. Since then He has moved from strength to strength. He has raced the UK Elite Superseries, Vegas 70.3 World Champs and helped Paratriathlete Iain Dawson to World, European and National Titles. He has also raced at top Elite level in 2012 after gaining his Pro BTF License. Two of Matt's biggest achievements came in 2011 and 2013. Firstly in 2011 when came 2nd in the European Standard Distance Championship and then, 1st in the World Championship Grand final in London in 2013. Winning his age group by clear margin.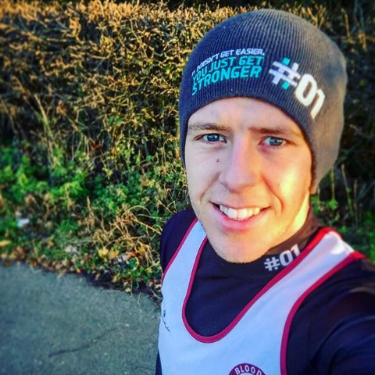 James Chapman - Senior Athlete
James is the definition of hard work pays off. He is a local athlete to the Norwich area. From training hard and focusing on his weakness he has become a regular on the podium. Winning local races such as Fritton Triathlon, East Coast Triathlon and finishing second in the Fritton Triathlon Weekend where only 8 seconds separated him and first place after 4 hours of racing over 3 races. These kind of performances is what has lead James to competing for GB Age Group at a European level and completing Ironman races. James works as a teacher where he dedicates his time to trying to get young people into open water swimming.
Kim Morrison - Team Ambassador
Kim is an International Pro Ironman athlete from North Norfolk. After winning the European Age Group Triathlon Championships in 2014 Kim has gone on to win both Texas and Buenos Aires Ironman 70.3 as a Pro. Over the past year Kim has been setting new bike records on nearly every course she raced. Kim's ethics and personal connection to the Great Almonds Street charity ring true with Beacon Tri's belief in giving back to the community. Kim has come on board as an Ambassador to Beacon Tri to help support and encourage our athletes in between racing and training